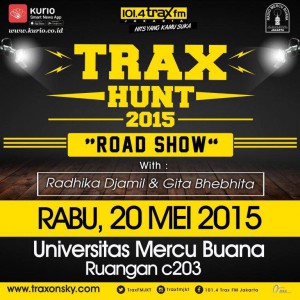 RADIO MERCU BUANA Present
Seminar  BROADCASTING AND PERSONAL BRANDING with TRAX FM JAKARTA. On 20th Mei 2015, 1pm – down, at C203.
Speakers by Randhika Djamil & Gita Bhebhita (Announcer Trax FM).
Only HTM: Rp. 20.000 include certificate, snack, and Knowledge about broadcasting of course.
So, what are you waiting for?! GRAB IT FAST THE TICKET!! at Radio Mercu Buana, building A 4 floor.
For more info:
Umi 081906205000
Finky 087823336545